Canon PowerShot SX260 HS; 1/320s, f/6.8, ISO 100, focal length 90mm (35mm equivalent 523mm); AUTO setting
Took a ride around my town today, Dunnellon, Florida, U.S.A. The sun was shining and the temperatures are cooling down a little now that it is mid-October. The fields of rolled hay always catch my eye.
Top Ten Winner in the "Harvest Time in the Country" challenge in , Sept. 29, 2013
Top Ten Winner in the "November Avatar" challenge in , Oct. 29, 2012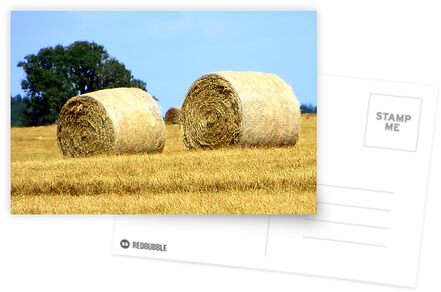 Wikipedia:
Hay is grass, legumes or other herbaceous plants that have been cut, dried, and stored for use as animal fodder, particularly for grazing livestock such as cattle, horses, goats, and sheep. Hay is also fed to pets such as rabbits and guinea pigs. Pigs may be fed hay, but they do not digest it as efficiently as more fully herbivorous animals.
Hay is fed when or where there is not enough pasture or rangeland on which to graze an animal, when grazing is unavailable due to weather (such as during the winter) or when lush pasture by itself is too rich for the health of the animal. It is also fed during times when an animal is unable to access pasture, such as when animals are kept in a stable or barn.
Hay is very sensitive to weather conditions, particularly when it is harvested. In drought conditions, both seed and leaf production are stunted, making hay that has a high ratio of dry coarse stems that have very low nutritional values. If the weather is too wet, the cut hay may spoil in the field before it can be baled. The hay may also develop rot and mold after being baled, creating the potential for toxins to form in the feed, which could make the animals sick. It also has to be stored in a manner to prevent it from getting wet. Mold and spoilage reduce nutritional value and may cause illness in animals.
Poor quality hay is dry, bleached out and coarse-stemmed. Sometimes, hay stored outdoors will look like this on the outside but still be green inside the bale. A dried, bleached or coarse bale is still edible and provides some nutritional value as long as it is dry and not moldy, dusty, or rotting.
The successful harvest of maximum yields of high-quality hay is entirely dependent on the coincident occurrence of optimum crop, field, and weather conditions. When this occurs, there may be a period of intense activity on the hay farm while harvest proceeds until weather conditions become unfavourable.