Canon EOS Rebel XSi/450D, Canon 55-25 lens; 1/100s, f/5.6, ISO 250, focal length 96.0mm
See in larger view.
616 views as of Feb. 5, 2014
This Whooping Crane is a resident of the Homosassa Springs State Wildlife Park in Florida, U.S.A. (Info below)
SOLD a poster, Feb. 4, 2014
FEATURED in , June 16, 2012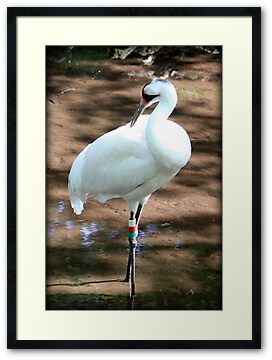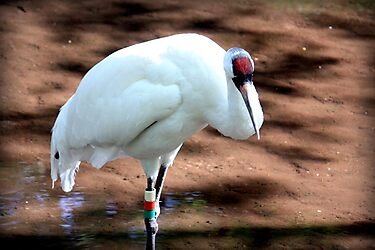 From Wikipedia:
The Whooping Crane (Grus americana), the tallest North American bird, is an endangered crane species named for its whooping sound and call. Along with the Sandhill Crane, it is one of only two crane species found in North America. The whooping crane's lifespan is estimated to be 22 to 24 years in the wild. There is an estimate of only 400+ left in the wild (U.S. Fish and Wildlife Service: February 03, 2008)
Adult whooping cranes are white with a red crown and a long, dark, pointed bill. Immature whooping cranes are pale brown. While in flight, their long necks are kept straight and their long dark legs trail behind. Adult whooping cranes' black wing tips are visible during flight.
The species stands nearly 1.5 meters (5 feet) with a wingspan of 2.3 meters (7.5 feet).
Other Sources: Whooping cranes are omnivorous, probing the soil subsurface with their bills and taking foods from the soil surface or vegetation. The whooping crane breeds, migrates, winters, and forages in a variety of wetland and other habitats.
Operation Migration: To assist in the migration of young whooping cranes, pilots flying ultralights lead several of them from Wisconsin to Florida over the period of two or three months. Local residents in my town, Dunnellon, Florida keep track of the progress of the migration and assemble early in the morning on the day they are scheduled to fly over the Dunnellon Airport (as they did on January 25, 2011). After that the cranes can migrate on their own