This is a Crested Caracara that resides at the Homosassa Springs State Wildlife Park in Homosassa Springs, Florida. See info below about this bird.
Canon EOS Rebel XSi/450D, Canon 55-250 lens
1/40s, f/5.6, ISO 800, focal length 90.0mm
FEATURED in , April 3, 2012
FEATURED in , April 1, 2012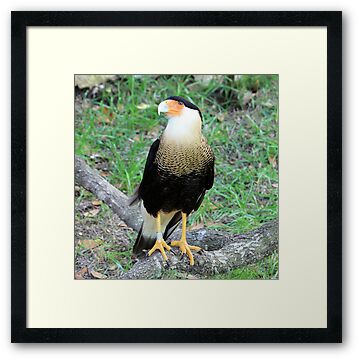 From the Cornell Lab of Ornithology website – ALL ABOUT BIRDS
A tropical falcon version of a vulture, the Crested Caracara reaches the United States only in Arizona, Texas, and Florida. It is a bird of open country, where it often is seen at carrion with vultures.
Adult Description
Large, long-legged raptor. Black cap with short crest at back. Pale sides of back and neck. Bare red skin on face. Black body. White tail with wide black tip. White patches at ends of dark wings. Faint barring on upper back and breast.
Immature Description
Juvenile similar to adult, but tawny brown instead of black; buffy, not white face; and with streaks, not barring on neck.
Cool Facts
A common subject of folklore and legends throughout Central and South America, the Crested Caracara is sometimes referred to as the "Mexican eagle."
Although it looks like a long-legged hawk and associates with vultures, the Crested Caracara is actually in the same family as falcons.
Habitat
Open country, including pastureland, cultivated areas and semi-desert, both arid and moist habitats but more commonly in the former.
Food
Insects; small and occasionally large vertebrates, including fish, reptiles, amphibians, birds, and mammals; eggs; and carrion of all types.
Conservation
Populations in United States have declined historically, but currently appear stable or slightly increasing. Classified as "threatened" in Florida. Common and widespread throughout Neotropics.