The live oak trees in Florida are huge and many are covered with Spanish Moss. I took this photo in Floral City, Florida from the car window.
Canon EOS Rebel XSi/450D
1/60s, f/5.6, ISO 100, focal length 55.0mm, enhanced in Topaz Adjust
FEATURED in , June 3, 2012
Top Ten Winner in the "St. Patrick's Day – Lots of Green" challenge in , March 25, 2012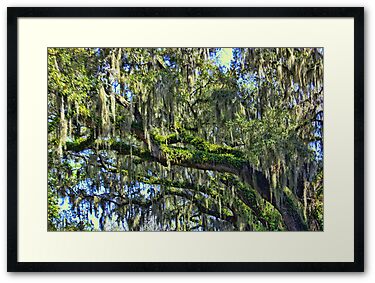 From the website of the University of Florida Institute of Food and Agricultural Sciences (IFAS)
Spanish-moss (Tillandsia usneoides):
Spanish-moss, also called Florida moss, long moss, or graybeard, is not a true moss. It is an epiphytic plant, which grows on another plant, but does not rely on the host plant for nutrients; epiphytes make their own food. They are sometimes referred to as air plants because most have aerial roots; however, Spanish-moss does not have any roots. It uses its long, thin, scaly stems to wrap around the host tree and hang down from the branches. The leaves are covered with cup-like, permeable scales that 'catch' moisture and nutrients from the air and from pockets on the surface of the host. This water-trapping ability allows Spanish-moss to withstand long dry periods. In extreme dry spells, the plant becomes dormant until moisture returns. While the plant is not parasitic, it can sometimes damage the host tree by over-shading the leaves, thus reducing photosynthesis, or by weighing down and breaking the branches.