Taken at the Homosassa Wildlife State Park in Homosassa, Florida. This is a wood stork – a large clumsy looking bird, but very interesting to look at. (please read below)
Canon EOS Rebel XSi/450D, Canon 55-250 lens
1/250, f/5.6, ISO 125, focal length 250.0mm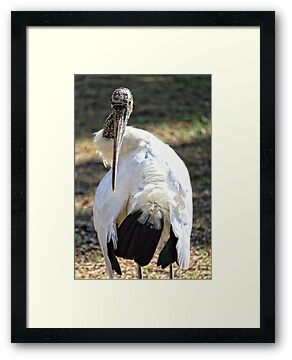 From Homosassa Wildlife State Park:
Wood Stork
Scientific Name: Mycteria americana
These birds are found in cypress swamps, marshes, ponds and lagoons in fresh, brackish and salt water habitats from South Carolina to Florida. In 1984 the Wood Stork was listed as an endangered species by the U.S. Fish and Wildlife Service under the Federal Endangered Species Act. It is also listed as endangered by the State of Florida.
From Wikipedia:
The Wood Stork…is a large American wading bird in the stork family Ciconiidae. It was formerly called the "Wood Ibis", though it is not really an ibis. The Wood Stork is a broad-winged soaring bird that flies with its neck outstretched and legs extended. It forages usually where lowering water levels concentrate fish in open wetlands; it also frequents paddy fields. Walking slowly and steadily in shallow water up to its belly, it seeks prey, which, like that of most of its relatives, consists of fish, frogs and large insects. It catches fish by holding its bill open in the water until a fish is detected.