Some of the shops in Micanopy, Florida. I love the old buildings and the huge moss-covered oak trees.
Canon EOS Rebel XSi/450D
1/50s, f/5.6, ISO 100, focal length 37.0mm
Processed in Picasa3 and Photoshop7, texture added.
FEATURED in , August 18, 2011
FEATURED in , August 16, 2011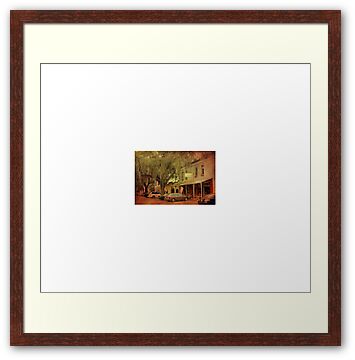 From: welcometomicanopy.com
"As the oldest inland Florida settlement, Micanopy has a well-established tradition of charm and Southern hospitality. Pronounced (Mick-can-oh'-pee), Micanopy is often called "The little town that time forgot." Micanopy possesses warmth and charm as well as an eclectic array of antique shopping. Micanopy was voted "Best Antique Shopping" town … by readers of Florida Magazine in 2006.
Micanopy's streets are lined with historic buildings housing unique shops and cafes. Here you can find unique sites; friendly people; shops brimming with antiques, collectables, folk art, and decorative fare; and beautiful vistas and parks nearby such as Paynes Prairie, Orange Lake and Cross Creek. In and around Micanopy, there are many things to do year round to please the whole family."
In 1991 the movie "Doc Hollywood" starring Michael J. Fox was filmed in Micanopy.