A very odd "sculpture" (or upside down table with leg legs and sneakers?) at the doorway of one of the shops in Tarpon Springs, Florida, across from where the sponge ships dock.
Canon EOS Rebel XSi/450D
Filters applied and light adjustment in Photoshop7
FEATURED in , May 10, 2011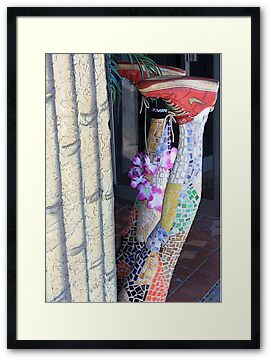 From VISITFLORIDA.COM
Tarpon Springs was incorporated in 1887, largely by Greek immigrants who developed the region's sponge-diving industry. The atmosphere is still heavily Greek, as evidenced by shops and eateries along the docks, and downtown boasts antiques stores and galleries.