620 views as of May 28, 2012
Three gopher tortoises sharing a healthful looking bowl of salad greens and fruit at the Homosassa Springs Wildlife State Park in Homosassa, Florida.
Canon EOS Rebel XSi/450D, Canon 55-250 lens at 55 mm
Top Ten Winner in the "Turtles" challenge in , Nov. 28, 2013
SOLD a 24″ × 16″ photographic print, August 19, 2012. THANKS to the unknown buyer!
Top Ten Winner in the "Three of a Kind" challenge in , May 28, 2012
FEATURED in , March 4, 2011
FEATURED in , February 24, 2011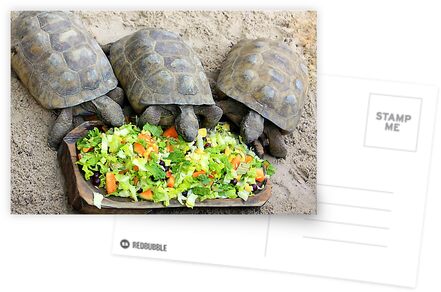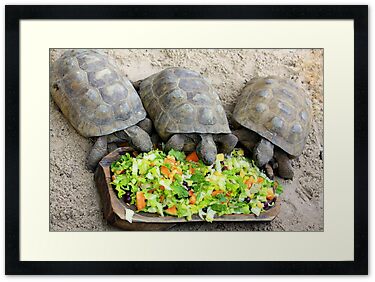 Alternate view:

From the Florida Fish and Wildlife Conservation Commission (FWC):
Gopher tortoises are long-lived reptiles that occupy upland habitat throughout Florida including forests, pastures, and yards. They dig deep burrows for shelter and forage on low-growing plants. Gopher tortoises share these burrows with more than 350 other species, and are therefore referred to as a keystone species.
Gopher tortoises are ancient: their ancestors are a species of land tortoise that originated in western North America some 60 million years ago. They are the only tortoise that occurs east of the Mississippi River, in habitats that some refer to as the "southeastern desert.
Gopher tortoises are a threatened wildlife species and are protected by state law (Florida). It is against the law to kill, harass or destroy gopher tortoises, their eggs or burrows.
From Defenders of Wildlife:
Length: Average of 10 inches.
Weight: 29 lbs.
Lifespan: 60 years.
The shell or "carapace" of the gopher tortoise is mostly brownish gray and the underside of the shell, or "plastron," is yellowish tan. Their front legs are shovel-like which helps them when digging their burrows. As with all turtles, males can be distinguished from females because males have concave plastrons. Male gopher tortoises also have longer tails than females.
Gopher tortoises are one of the few species of tortoise that dig burrows. These burrows can be up to ten feet deep and 40 feet long, and are as wide as the length of the tortoise that made it. In addition to providing the tortoise a home, the burrows are also used by a range of other species including the indigo snake, Florida mouse, gopher frog and burrowing owl.