A beautiful Miniature Zebu bull at the "swap meet" in Dunnellon, Florida. See description of this breed below, as well as a photo comparing its size to a man.
Canon EOS Rebel XSi/450D
Cropped and brightened a bit in Picasa3, a free download
FEATURED in , July 10, 2010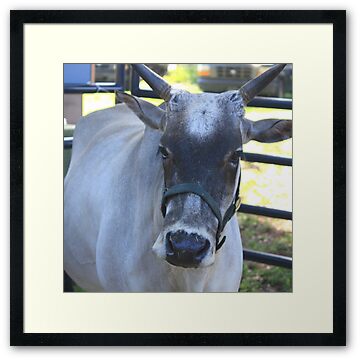 Comparison in size to man

Miniature Zebu cattle come in all colors, gray, black, red, brindle and paint. Average size is 34″ to 38″ tall with average weight at maturity of 350-550 pounds. Miniature Zebu cattle resemble their larger cousins the Brahman cattle.
Miniature Zebu cattle are one of the oldest known breeds of cattle dating back to around 3000 B.C. Known as "Nadudana" or small cattle, they are very hardy and thrive in hot weather. The name Zebu is synonymous with "Bos Indicus", the scientific name for humped cattle. Very little is known about the early history, but we do know that Miniature Zebus are among 30 or more zebu breeds in the area of Pakistan, India, Bangladesh and Sri Lanka. Poor conditions in some of these areas could not support the larger breeds, hence the small cattle evolved. Their diminutive size makes them very economical to keep.
In the 1920's, Miniature Zebu Cattle were imported to the U.S.A. for display in zoological gardens. Their popularity is on the rise and they are now a recognized breed at many state fairs. The 2009 Florida State Fair held its first Miniature Zebu Open Shows with 45 animals and 10 exhibitors.