1127 views as of Feb. 20, 2012
Please view larger.
Sound blasting through those amplifiers at a Rock and Roll concert!
Abstract of rust and peeling paint on the leg of the old water tower in Dunnellon, Florida.
Canon EOS Rebel XSi/450D
Filters applied in Photoshop & fill light in Picasa3
Visit my Zazzle store here to see products using this design.
SOLD a matted print (Thank you, Kim!)
FEATURED ON REDBUBBLE HOMEPAGE! April 16, 2010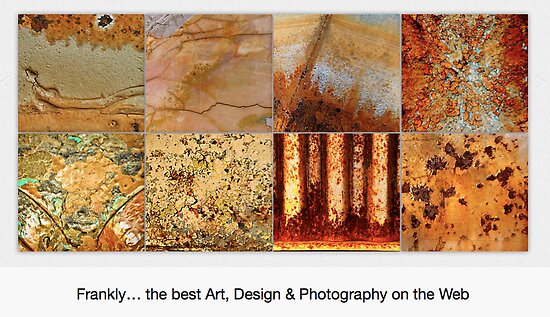 FEATURED in , Nov. 5, 2011
Top Ten Winner in the "ROCK n ROLL!" challenge in , Oct. 1, 2011
FEATURED in , April 27, 2011
CHALLENGE WINNER in the "Abstract RUST Patterns" challenge in , April 24, 2011
FEATURED in , March 31, 2011
FEATURED in , January 8, 2011
CHALLENGE WINNER in the "Your Best Abstract Work" challenge in , June 21, 2010
FEATURED in , June 20, 2010
FEATURED in Pat Gamwell's "FEATURE PAGE: Rust Art" in , May 21, 2010
FEATURED in , April 15, 2010