193 views as of June 23, 2011
This is my wonderful grandson, age 14, and his saxophone. He plays in his middle school band and with a jazz group, and he is getting better and better at playing this instrument. He loves it, and I'm very happy about that. I "jazzed" up the photo because it seemed to fit the music and the instrument. Photo taken at my home in Dunnellon, Florida. Original editing done in Picasa3. (See below) Warhol Effect done in LunaPic, a free online photo editor.
This would make a good card for an invitation, congratulations, encouragement, or a thank you for any music related event.
SOLD a card, June 23, 2011. Thank you so much to the buyer!
FEATURED in , March 24, 2010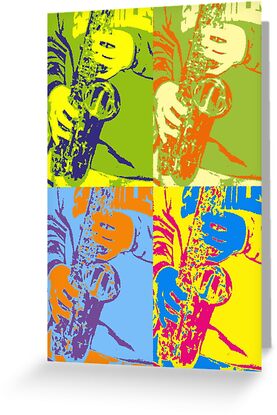 Original image "And All That Jazz!"