Blue Blazes was selected as a Featured Work by the groups Pure Abstract Art, It's in the detail… in December 2010, and by the groups Abstract Macro Urban Art and The Art of Peeling Paint in November 2010.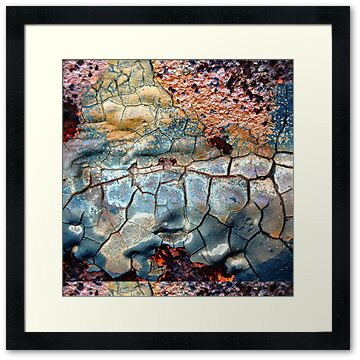 What people around the World are saying about "Blue Blazes"
"Excellent" Chelmer, Australia
"Just love it. The iridescent feel, colour variety, depth, sheen, composition and texture!" Lakefield (Gore), Canada
"Amazing!!" Old Coulsdon, United Kingdom
"Wonderful work." Glen Waverley, Australia
"Stunning. A real eye-catcher!" Edmonton, Canada
"Looks almost Prehistoric." Adelaide, South Australia
"Wonderful bit of abstract macro art" Leeds, United Kingdom
"Stunning artwork! A beautiful abstract macro." Brisbane, Australia
"Very cool." Milan, Italy
"Intriguing detail" Dromana, Australia
"Absolute excellence!" USA
"WOW!!, gorgeous abstract!!!!!" Birmingham, United Kingdom
So I did some poking around on the internet for meanings of the phrase "Blue Blazes". I found two that fit this image pretty well. Blue Blazes are paths off the beaten path. And… If something's as hot as blue blazes, it's extremely hot!
Abstract macro photograph of some cracked paint on top of some rusting metal. This was found on an old, torn-up bridge in western New York by JD Brummer for As Eye See Photography.