Urban Art Gallery is part of an As Eye See Photographic Series promoting awareness and raising funds for the talented local artists of Bisbee, Arizona.
50% of all sales'proceeds from all cards and prints in this series are being donated to the Bisbee-based, non-profit Central School Project
The Central School Project (CSP) is a non-profit organization fostering appreciation of the arts in the southeast Arizona community, and serving the community with arts and ecology programming providing affordable, creative space to working artists.
As a community service organization in a rural community which has become widely recognized as a center for the arts, CSP supports and collaborates with individuals and organizations to further cultural and ecological awareness in the community. Programs include exhibits, films, plays, poetry readings, workshops and other public events. In addition, CSP makes its resources available to the community for a variety of programs and activities.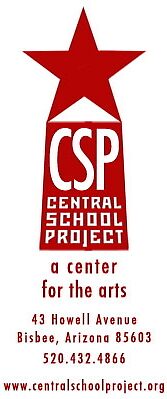 I am passionate about this artsy community, because without these individuals, I would never be able to bring their beauty to you through my photography.
I pledge to donate 50% of all of my sales' proceeds from all cards and prints of their artistry in this series to help to promote and support their continued expressed creativity, and artistic inspiration through the Central School Project
Photograph was selected in July 2009 as a Featured Work, and received a Top Ten finish as voted on by the Experimental group members in the Urban Experiments challenge also in July 2009.
A Redbubble member 'Favorite' selection!
Photographed in Bisbee, Arizona by JD Brummer for As Eye See Photography.