As a card…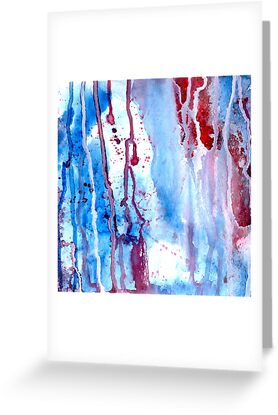 watercolor — Originally painted for a contest on the theme of REGRET. ~ Reference John 19:34
"One of the soldiers, however, pierced his side with a spear, and immediately
… BLOOD AND WATER FLOWED out."
In the greatest act of love in history,
and in fulfillment of a complicated, centuries-old system of sacrifices,
Jesus became the perfect sacrificial Lamb of God. The Passover Lamb.
The theme can be explained through 2 different, but connected stories.
The character Aslan of Narnia
is a symbolic MESSIAH figure.
Aslan allows his enemies, led by the Queen, also known as Jardis the White Witch, to torment, humiliate and murder him. [reference The Lion, the Witch and the Wardrobe]
Edmund, character of this Narnia story, experienced great regret for his part in the event.
Aslan exchanged his life because Edmund had been a traitor and therefore was required to forfeit his life to the Evil Queen.
She gleefully accepts the offer to have the life of Aslan in place of Edmund. Later this will be cause for her regret.
Back to Lucifer, and the story of Jesus, following the same plot, only with much deeper magic than that of Narnia.
Instead of gaining the ultimate victory, Lucifer had sealed his own doom. The ultimate regret.
Jesus of Nazareth had created the death of death, and opened a door for new life and recovery of many things for the human race.
Lucifer had been an instrument of pain and death which only led to the greatest of victories—the Resurrection.
Back to the Christian reference, at the end of the crucifixion of Jesus, the soldiers slide a sword into his side to insure his death. This is when "BLOOD AND WATER FLOWED"…
The crucifixion scene was a time of terrible pain and regret for those who loved Jesus. The friend and disciple Peter, for example, had denied him. Most of the friends of Jesus were in hiding. His mother was there to witness this horrific event.
However, later this would become LUCIFER'S REGRET.
Again reference ** John 19:34…BLOOD AND WATER FLOWED
Unusual frame choice available: