Live, Love, Dream
Todays features inspired by freedom in life and freedom in art..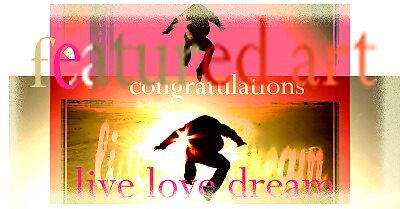 Let your dreams come to life here !!!!!! At Live, Love, Dream, we are open minded individuals striving for perfection in the ultimate pursuit of happiness. All are welcomed here with love and open arms and are encouraged to Climb to the top of their success ladders!!!!!!
A group that dares to dream, and DREAMS BIG !!!!!!! We welcome all new members and encourage you to jump right in and put your amazing talent out here for all to see and enjoy! Never let anything stand in your way, never stop trying, and NEVER back down from your true desires in life! We are all here to stand behind you 100%! We care !!!!!
Welcome to Art To Wear
The t-shirts in store are adaptations from my ow…