Design from my painting. Also available as an Iphone cover.
The Thunderbird is a legendary creature from many Pacific Northwest Coastal cultures. It's a giant bird, known to make thunder from the flapping of its wings and lightning from its eyes. They're intelligent, powerful and wrathful creatures that are said to be messengers for the great spirits and if angered, they'll swoop down and take village children. I decided to depict a child that got the best of a thunderbird, to have an adventure.

Original: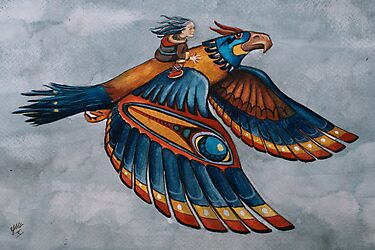 Featured in:
International Superheroes of Drawing, Illustration and World Domination – March 2010
Art and Stories made for Children – April 2010
Art at its Best – May 2010
Spirit of the Native American – May 2010
Newmans Pet Tees and Art – Aug 2010
Unrealistic – March 2011
Spirit of the Native American – Sept 2011
Winner of Tots to Teen Tees – Fantasy Creatures Challenge – March 2011. Thankyou!
5000+ views, many shirt/hoodie sales, thanks!
The colours (click to enlarge)