It's early morn and this large female Golden Silk Orb-Weaver spider is seen with a tiny orange male partner on it's back.
(Spider family found in Northern Australian known as Nephila pilipes)
Photo taken early morning at home, near Innisfail, Far North Queensland, Australia.
Insects, Bugs and Creepy Crawlies 23.06.2013
THIS & THAT 24th May, 2013
Artist of the Month in ARTISTS UNIVERSE March 24th, 2013
THE TROPICAL ZONE ~ February 20th, 2013
FAR NORTH QUEENSLAND group ~ 13.02.2013
As Is Photography Group. ~ 12 June 2014

Handheld Pentax K-5 II s Lens DA* 50-135
1/6s @ f/2.8, ISO 100, FL.103mm
Date: Jan.30, 2013 Time: 7:13:54
Processed/edited via CS2.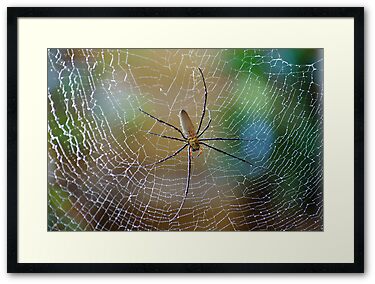 Ref:: http://en.wikipedia.org/wiki/Golden_silk_orb-weaver
"The golden silk orb-weavers (genus Nephila) are a genus of araneomorph spiders noted for the impressive webs they weave. Nephila consists of numerous individual species found around the world. They are also commonly called golden orb-weavers, giant wood spiders, or banana spiders. In North America, the golden silk orb-weavers (see also Nephila clavipes) are sometimes referred to as writing spiders due to occasional zigzag patterns (stabilimenta) built into their webs, though these occur much more frequently in the webs of Argiope, such as the St Andrew's Cross spider."