A smaller variety of red torch ginger flower with white tips, grown in my own home garden near Innisfail, tropical Far North Queensland, Australia.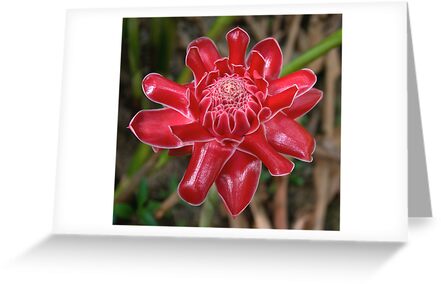 Blooms (All Seasons)
Natures Paintbrush 7.11.2012
One Single Flower on Display 17.04.2013
WINNER in the RED CHALLENGE in *ONE SINGLE FLOWER ON DISPLAY ( The Full flower must show no part of the flower cut off )
DSLR Camera: Pentax K10D. Lens: smcPentax-DA 18-55F3.5-5.6 AL
Shutter Speed: 1/50sec, Focal length: 35 mm, Ap: F4.5 Sensitivity 100, Manual Focus.
Raw file processed via Photoshop.