Rose Apple (Syzygium jambos) fruit tree blossom.
Shot taken in the home garden, near Innisfail, Tropical Far North Queensland, AU.
I really love eating the delicate small rounded, thin skinned and hollow, rose scented yellow fruit off of our home grown, now very large, Rose Apple tree. It took many years to grow before it finally started producing flowers and the fruit.
Work Featured In
The 50mm Prime Group 24.10.2012
Gorgeous Flower Cards 27.06.2014
Low Light Photography ~ Midweek Features ~ 2nd July 2014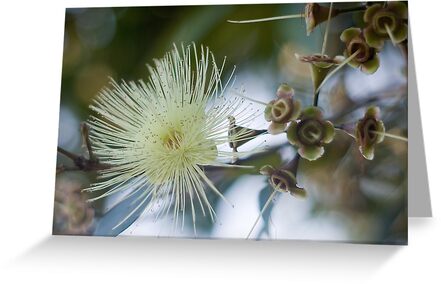 > Handheld Pentax K10D, Prime Lens smc Pentax 55mm F1.2
1/1000sec, manually set Ap., ISO 100, Manual Focus.
Date/Time > 23.09.2012 @ 5.09.05 pm
Raw file processed via CS2.