Section (flat detail) of Euca Abstract, concertina artist book (19.4 × 54 cm).
Gouache on 300 gsm Arches watercolour rag paper. (At best viewed large)
This is one of the works created for the Kuranda Arts Cooperative group exhibition Tablelands, Perimeters and Parameters held at the Tableland Regional Gallery, Atherton, Far North Queensland, Australia, Feb 5 to Feb 28, 2010.

Fall Feature Blitz ~ Artists on Facebook group, October 29, 2011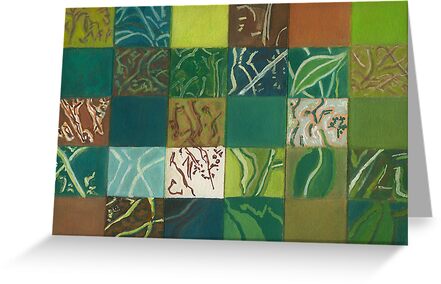 Section from the original work Euca Abstract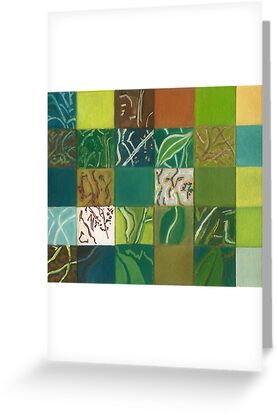 Artist Statement for Tablelands, Perimeters and Parameters Exhibition work.
"My work explores unique design elements and characteristics of various organic vegetation (plants, plant life, flora, foliage, undergrowth) growing on the Tableland. Imagery has been initiated and developed from referencing my own photographic material taken in this environment. Literally, perimeters and parameters are first set within the camera frame shoot then arranged within my chosen art forms where flexibility is provided in the arrangement of separate components into a coherent whole. Painting and grid-like surfaces from paper manipulation, arrangement processes along with assembly formations imply mapping territory, boundaries, multifaceted planes and a parallel dual realm of the two-dimensional and three-dimensional. It is where a diversity of observed unique characteristics of extracted essences such as colour and tone as well as organic and geometric shapes are reflected.
The works represent intimacy, relationships and a communion with nature's higher energy life force and verve."