Medium: Acrylic, collage Support: Canvas board Size: 10 inches x 8 inches
Exhibited in 'BIG', a Kick Arts Insider Members Exhibition, CoCA, Cairns, Qld., 2008, The original work has sold.
Abstract Art (26.09.09)
! # 1 Artists of RedBubble (27.09.09)
Dimensions (27.09.09)
Best of RedBubble
Creative Spirits of Australia
…
About: This unique work is in response to an exhibition theme of 'BIG'. I was inspired to play 'big' time, to have fun while tapping into my intuitive/heart mode and subduing my seemingly dominant left-side brain (organizational mind-task mode) as I generally have a continuous hectic workload operating my small retail business. Symbolic meaning is implied on several levels which is left for personal interpretation through the abstract/geometric shapes, colour, theme and writing.

Greeting Card
….
Writing up the side of the image "Catch a falling star and put it in your pocket, never let it fade away!" comes from the title of a catchy little tune which I had recalled being sung in my childhood days!
…

…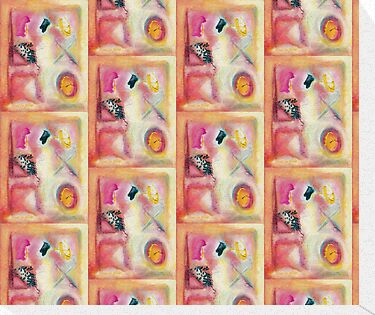 Canvas Print
…