Banana fibre lidded receptacle, coiled and stitched. Height 185 mm x Width 380 mm.
Work featured in
Pentax (8.03.11)
Contemporary Professional Painters and Sculptors

Working with fibres has been a passion since childhood. I learnt the coil and stitching technique in 1992, at an Innisfail Summer Arts Fusion workshop. From this I've evolved my own natural fibre form receptacles using locally grown natural fibres.
Vessel symbology is for containment, embodiment, alchemy.
Work has been exhibited in the Elevating the Spirit Exhibition at the following venues
Cairns Regional Gallery, Sugarama Gallery,
Sugarama Gallery, Mourilyan &
Umbrella Studio, Townsville.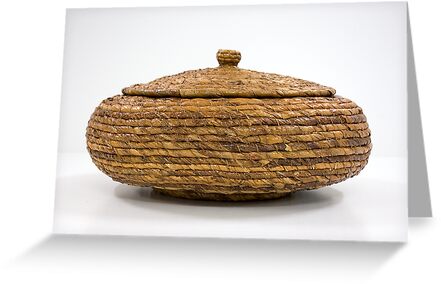 Photographic Details:
Pentax K10D, Lens smc Pentax-DA 18-55mmF3.5-5.6 AL
Focal Length 55.0mm
Shutter Speed 1/10sec
Aperture F8.0
ISO Sensitivity 400