Medium: Mixed-media: acrylic, pastel, linen thread, banana fibre, fabric – hessian, tarlatan; butterfly wing, leaf, rice paper, paper. Support: Canvas Original size 8″ × 6″
Techniques: Collage, painting, drawing, banana fibre basketry, stitching.
+ Sold at the Postcard Exhibition, Cairns Regional Gallery.
♥ Artists Universe ♥ 2 Works Per Day
Impressionism Cafe – Group Challenges
In Top Ten – Symbolism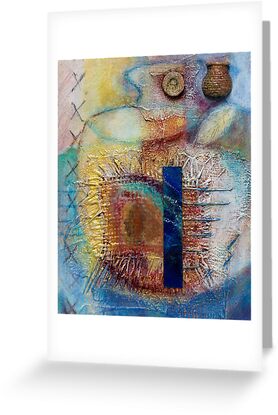 SYMBOLISM:
Abstract, Archetypal Expressionism
Acknowledgement of transitional states and the work of the spirit through the repetition of the X's reflecting time, movement, physical attachment – stitching, threads.
The X's: also vortex symbol, "As is above, so is below", spirit/matter, heaven/earth realms, parallels, thoughts, manifestation, mesh, grid, lattice, interconnections, signifying realms of planes – a particular level of existence, mental activity, achievement.
Channels, layers, stitching, butterfly wing, leaf – passage, transit, conduit, levels, parallels, planes, carriers.
Vessels – embodiment of your 'being', container, inner alchemy processes, all is one; open, receive, filter, give and take, shelter, nurture, protect, shadow self, dualities.
Colours/fabric, rice paper collage – Primal, energy/chakra levels, alchemies, signifying realms of existence, of various planes – worldly, spiritual.