Medium: Acrylic, oil based ink, linen thread on canvas.
Original artwork support frame size: 1220 mm x 1220 mm x 37 mm.
The Inspired Art group
Abstract Art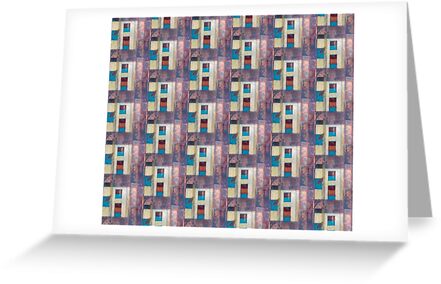 About the work:
Created with multiple acrylic and textured layers, built up in a symbolic multiple-page layout composition in reference to my 'Book of Threads' artist book.
All is the manifested evidence of my ongoing passionate spirit for exploration, experimentation, seeking and discovering the subliminal, generating awareness and enlightenment about the human condition.
The work is from my solo exhibition 'Elevating the Spirit' … "where connections, relationships and unity are explored through visual language elements and symbology, between one's inner-self (soul, spirit, life-force, essence), psyche and the outer world. Notions of passage, transition (change), duality, reflection, containment and synthesis (fusion) are contemplated and reflected upon."
There are several metaphorical levels here representing contrasting perceptions:
in relation to time, energies and colour – between the old (faded, worn down, past chapters – memories/knowledge, traces, remnants) and the new (current pages, chapters, fresh, bright, bold, strong);
between the representation of spirit (gold/blue, channels/passage) and worldly matters (earthy, oxide colours, grids/boundaries).
Symbolic/parallel meanings are explored through:
the multiple pages (time, chapters, traces),
X's (as is above, so is below, zero point, vortex, connections),
multiple generational vessels (containment, alchemy, reflection, passing on of wisdom/knowledge),
passage channels (transition, spirit, motion)
stitched threads (attachment, fusion, parallels, spirit/matter, relationships, passage, traces),
colours (emotional, spiritual/worldly, energies, alchemy) and the floating leaf (passage, transit, motion, carrier of thought/dreams).