Local artists working their magic from the banks of the Johnstone River, Vuletta Estate, Innisfail, Tropical Far North Queensland, Australia. The old East Innisfail Jubilee Bridge can be seen in the distance.
Medium: Archival black ink & wash.
The challenge was to draw only with any available twig or stick lying on the ground, (archival) black ink and a rag.
Original size: A1 (594 × 841 mm or 23.4 × 33.1 inch)
Support: Cartridge paper.
I am always inspired to 'dance' while making energetic marks and so I danced with what was perceived before me.
Views: 3730 (as at 2.04.2014)
Post Card Style (End May 09)
Far North Queensland (May 09)
Impressionist Art (Jan.2010)
The Best of Anything and Everything. (15 Jan.2011)
Inspired Art (18 Jan.2011)
Artists Universe ( 3 Mar.2013)
Women Painters (13 Sept.2013 ~AU EST)
The Pen & Ink Corner (14.09.2013)
Top Ten Challenge Winner in the Women Painters Group's Ink on Paper challenge (2.10.2013)


…
Framed version


…
Available in all Poster Sizes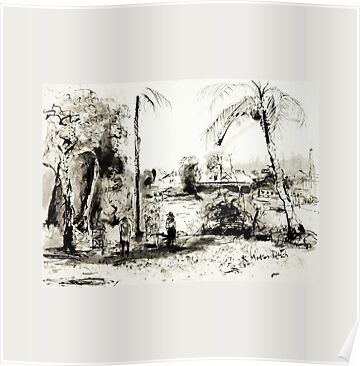 …