Medium: mixed-media – charcoal, pastel, gesso, watercolour, acrylic, oil, collage, leaves, fabric, papers – Himalayan rice paper, cartridge, Arches 300 gsm rag paper.
Support: Canvas. Triptych: H.122 cm x W.170 cm
+ Views: 3987 as at 11 Dec.2013.
ABSTRACT ART
COLLAGE with TRADITIONAL MEDIUMS
LAYERED UP (03 Oct.2013)
TOP TEN CHALLENGE WINNER in *'Artist Of The Month' – DEC.2013 Challenge in the WOMEN PAINTERS GROUP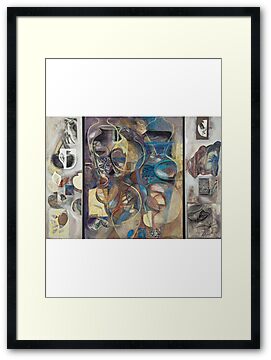 First of its kind, this work was inspired by and created for a curated group exhibition Remnants of Presence. Innisfail, Far North Queensland.
One of the conceptual challenges for each artist was to approach a work with subject matter in-two-parts to show recent practice/new work development and be shown together.
The artwork Visible Traces represents renewal, journey of experiences and time passage.
Part A – Of recent practice (the two outer side panels) makes reference to the initial inspirations from: the natural environment, the human figure, various motifs including banana fibre made receptacles/vessels, lino prints and evolved symbology.
Part B – The new work (centre) Prior artwork imagery & object 'remnants' were used for the initial stimuli and also represents my 'presence'. All is fused into an abstract multi-layered composition.
It is a collective tribute to the tropical shapes, forms, patterns, and textures etc that were the initial inspirations, the visible signage. Organic, gestural and spontaneous in feel (energy), with collage and mixed media processes mingled with personal symbolism.
The work provides the viewer with facets and moments. Although ambiguous, there are sufficient visual markers to draw them in to discover further information and help them to intuitively and conceptually complete what they may perceive in the work and to sense the presence of the artist (spirit).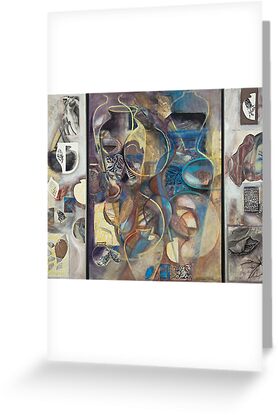 + View the Centre Panel here