Collaboration – Originality
of Translation – 1st Place
SoJie 12, August 2011

Lynda Robinson Fine Art Awards
Medium Master Watercolour
SoJie 12, August 2011

Traditional Art – Honors
SoJie 12, August 2011
August 2011 Juried Invitational Exhibition
This painting was done as part of SOJIE 12
Artists were asked to pair up with photographers to create their translation of a selected photograph.
I based this painting on


Still Life with Eggs
by TheWalkerTouch
I liked this photo for its deceptive simplicity and interesting juxtaposition of organic(the tree) and geometric shapes, complex and smooth textures, symbols of life and death…
I developed the theme a bit…thinking of the consequences of humans destroying the planet…Will there be life elsewhere? Why not, I'm hoping there is resiliency to life. In the painting I show new possibilities – plants born from an egg, birds emerge from tree trunks/branches, fish pop up from the sand…
At another level, all the components in the painting represent the birth of particular concepts or feelings in me as a child. Some of these are explained in the close ups I uploaded, see below.
The original painting is 20×13inch, painted using W&N paints and Derwent watercolor pencils on 140lbs CP Arches paper.
The painting includes many intricate details but the version here lost a lot of it. So I uploaded several close ups to my gallery and added some explanations why the various components were important to me as part of the 'alternative Genesis'. They may not mean much in terms of general survivability, but they were/are important in my universe.
I'll put them here too so they can be seen in a glance but it might be a good idea to click and see the larger versions. I hope it isnt too much…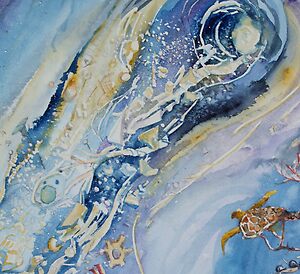 In The Beginning-the source (detail)
by ArtPearl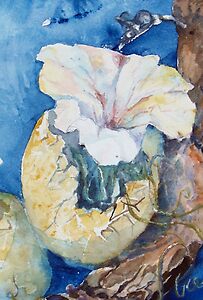 In The Beginning – Morning Glory Egg (Detail)
by ArtPearl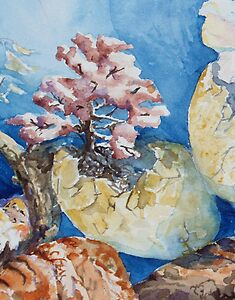 In The Beginning – Shade tree (Detail)
by ArtPearl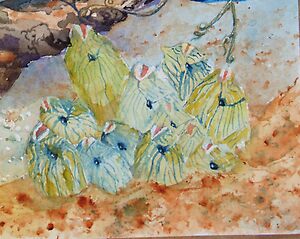 In The Beginning-Sand Fish (detail)
by ArtPearl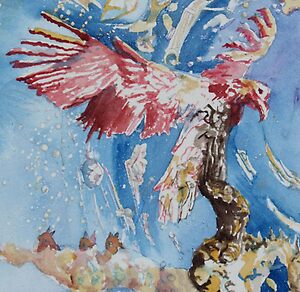 In The Beginning-the Eagle (detail)
by ArtPearl