Welcome to Solomon's Castle, an architectural wonder in Ona, Florida.
The castle is big and shiny, just as castles are meant to be. It has a tower, stained glass windows and a moat.
This structure was built entirely by the hands of the artist, Howard Solomon, internationally known sculptor. The gleaming exterior (a photographer's nightmare under the shiny sun of Florida !) is made of the printing plates discarded by the local weekly newspaper.
Within the castle are the family's living quarters, a stained glass studio, a main entrance hall, and the extensive galleries, exhibiting Solomon's "found object" sculptures.
There are more than 80 interpretations of stained glass windows throughout Solomon's Castle.
This is one of Florida's most unique experiences. See the castle grounds, beautifully designed by Peggy Solomon, and walk along the magnificent nature trail in the sylvan setting of picturesque Horse Creek. There are many surprises to behold at Solomon's Castle.
Solomon's Castle ~ Ona ~ Florida ~ USA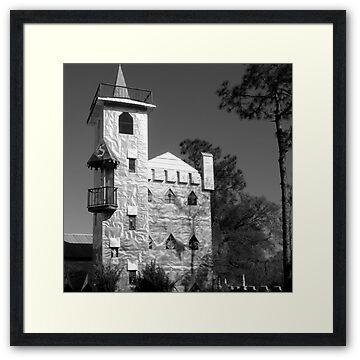 Olympus SP570 UZ