Bob's sci-fi Thriller
100 views as of 4.24.12
WOW, check this out… A fella back in the mid 1800s got a camera shot of this PT Cruiser from the future, 2007! The neighbors aren't sure what to make of this strange lookin' whatchamacallit. It just appeared out of nowhere. The man from the hills who took this picture with his new fancy camera said it was the darndest thing, what happened! He was up in them woods takin' pictures. He looked this-a-way and that-a-way hopin' to see that big footed creature all the hills people were talkin' 'bout, for a camera look-see. Well, sir, as he was getten a round-a-bout look-see of the area, he gazed at the road and BAM… out of nowheres this thing just up and showed itself. The fella took his picture and then hightailed it back to the house.
When I went to visit our former farm on 1.1.12, I parked my car roadside to get some pics of our neighbor's house. This is my PT Cruiser. I posted a capture and description of the old house. Whispers from the Past. From where I'm standing, the house is directly behind me.
I thought I'd have a little fun with my PT Cruiser picture.
… photograph captured along Buttermilk Road, near Knoxville, Tennessee, USA.
… was converted to sepia and edited in my Corel program.
POSTCARD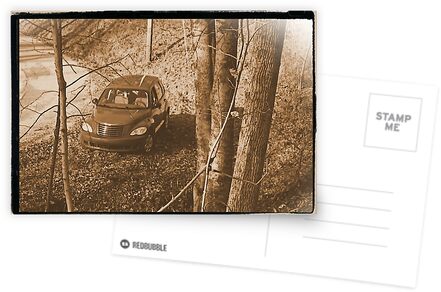 PHOTOGRAPHIC PRINT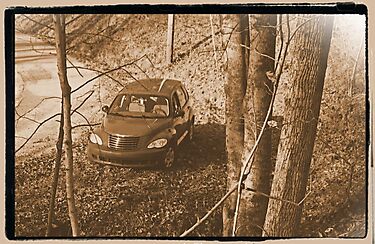 MATTED PRINT

MOUNTED PRINT

FRAMED PRINT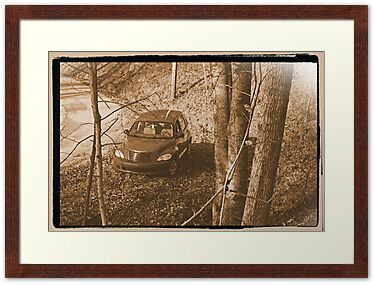 POSTER