Top Ten winner in, Memories ~ Peace Love 7 Tranquility, sponsored by ♥♥♥PEACE LOVE & TRANQUILITY♥♥♥ 3/2012
116 views as of 4.19.12
This picture was taken on Buttermilk Road, near Knoxville, Tennessee, USA. After capturing this shot, I converted it to a sepia look. The beam of light in this picture is sunlight reflection, not an edited appearance. This picture is the sequel to the previous shot I posted about the old farm and my recent visit there. The following link will take you to that picture and description, if you care to see it:
A Recent Sneak Peek of the Old Farm and the Tale Behind It.
Now… the saga continues. Although brief, this short piece is told under two subtitles: Whispers from the Past and Memories of a Neighbor and Friend.
Whispers from the Past
As you look at this photograph, it speaks of days past. The glimpse into the dark door and window of the porch beckons one to a time when activity and life filled the now-darkened space. The house's boards are cracked and peeling, leaning over from old age. The front porch lies fallen in a heap, never to reveal the chronicles of lives spent rocking and talking, of peeling potatoes on a hot day and hoping to catch a summer breeze on the porch, or of shucking corn and breaking beans in late summer. But the beam of light upon this place, as seen in the photograph, connects the present to an earlier time when my friend, Jackie, lived there.
Memories of a Neighbor and Friend
Jackie was quite active and didn't have a shy bone in his young body. Whenever Jackie made his way for a visit, we ( Uncle Richard and I) knew rockin' on the porch wasn't on the day's agenda. Getting out and running around usually atop the list of things to do, which involved Jackie on his motorcycle. Jackie always rode his bike to get from A to B, except on rare occasions when he'd parked the bike to help us with a chore or two. I recall on one occasion, Jackie helped us transport hay bales for a neighbor. As we were going down the road, standing on the truck bed, and as the truck was picking up speed, Jackie got smacked upside the head with tobacco juice. I'll not mention who was learning to chew… when he had no business doing so.
I want to thank my wife, Holly, for her collaboration on this writing.
Greeting Card

Postcard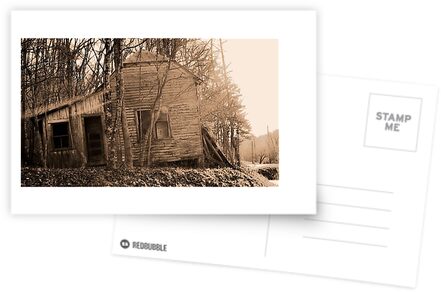 Photographic Print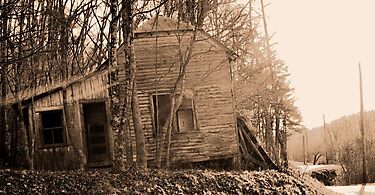 Matted Print

Mounted Print

Framed Print