Here on the bubble, I've written from time to time about the farm I once lived on as a kid. But, until now, I haven't uploaded any pics of the place. Below, I chronicle my story of those days a bit. In doing so, I use two old country expressions as subtitles: BACK-IN-THEM-DAYS and NOW-A-DAYS. I hope you enjoy the brief read!
BACK-IN-THEM-DAYS
This is the farm I once called home in the '60s (19 60's, of course). The farm is located on and near one end of Buttermilk Road, a winding and narrow gravel road. Living near the end of this road, back then, was like a frontier adventure. Our location was on the other side of the ridge… from the rest of the world! There were only a few families living on our side of the ridge. Almost all were farmers. During the winter months, we had to walk over the ridge to catch the school bus if conditions were too adverse for bus travel. Since those days, the road has been widened and paved. It's still somewhat winding, however. A couple of my favorite activities back then were exploring the woods and riding my bike on the rugged terrain. Riding the rugged terrain? Yes, that is, I loved to travel the gravel, throwing and slinging gravel everywhere as I explored the ridge road. Also, I enjoyed riding my bike on the old farm. Farmland terrain presented some heart-pounding challenges for a young kid who just moved from the big city of Chicago, Illinois, USA, where bike travel was all paved. Oh yeah, those were the days!
NOW-A-DAYS
After viewing this photo, you might have a question that goes something like this: Why did you upload a picture of the farm as viewed through the woods, a sneak peek only?
Good question! A good question deserves a good answer: After visiting my Dad (who lives in the Kingston/Harriman, Tennessee area) on New Year's Day, I decided to drive by the old farm and spend time on memory lane before returning to Knoxville, Tennessee, USA. My visit didn't turn out as I anticipated. Hoping I could walk the property for sight-seeing and picture-taking, I noticed both driveways to the place were gated and padlocked!!! That's right, padlocked!!! At that point, I concluded one important thing… the current residents don't have out-stretched arms for a friendly and neighborly visit. So, I parked my car roadside where I could get a few camera shots of at least the barn and property. When I exited the car, I heard distant and loud barking coming somewhere from the farm. By the tone of the barks, I figured the barking dogs were neither poodle puppies nor Chihuahuas. I got my camera shots, got back in the car and off I went. Looking back through the rear-view mirror of my car, I just knew those dogs were going to materialize from the woods, but they didn't.
I'd still like to walk the farm at some point; so, I'll have to come up with a Plan B. Hmm… here's an idea for a Plan B: First, I need to find a way to contact these fine folks of solitude. Secondly, once I do make contact, I'll attempt to gradually turn on the charm as we converse. This tactic usually produces positive results. My wife tells me I have a way with animals (cats, dogs, etc.); so, I'll have to work my charm on them, too… IF … IF I'm allowed on the premises. The saga continues. Stay tuned, lol!
Also, I took pictures of a neighbor's house located just down the road from the farm. That house has been abandoned for years. Still, I'll share a story or two about the folks who lived there in the '60s.
What you see in this picture is the barn from which I tossed a lot of hay. No doubt the barn has an updated roof by now. The water in the back ground is the Clinch River. I spent many-an-evenin' casting my fishing line in that river. Did I catch any? I sure did! Good sized fish, too! Could have reeled in larger ones, didn't though, because they got away. You should've seen the ones that got away!
Posted 1/6/2012
GREETING CARD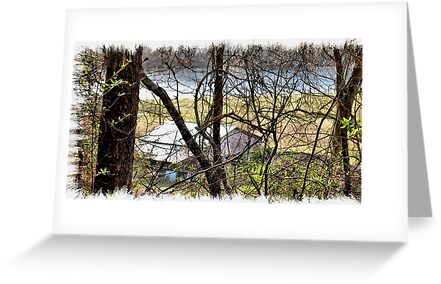 POSTCARD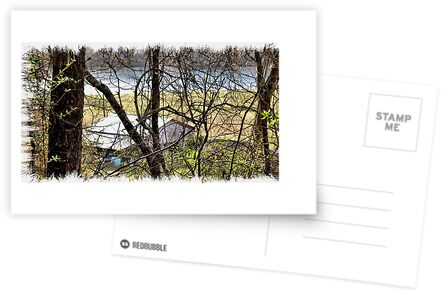 PHOTOGRAPHIC PRINT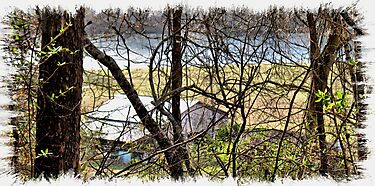 MATTED PRINT

MOUNTED PRINT

FRAMED PRINT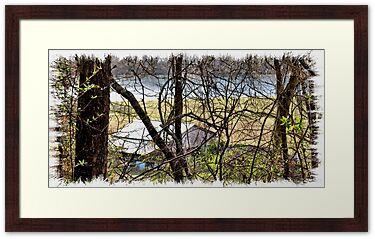 POSTER