A 3 Image Exposure processed in Photomatix Pro and CS3.
Fuji Fs100 Tripod Mounted.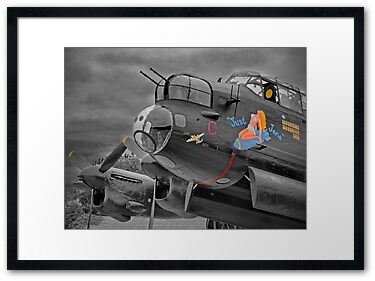 Lancaster B VII NX611 "Just Jane" was one of the last wartime aircraft to come out of the Austin Aero factory at Cofton Hackett and stored by the RAF 1945-1952. Served with the Aeronavale as WU-15 from June 1952 until the 1960s, when it was flown back to Britain. At one stage the aircraft was kept at Blackpool, and following the removal of R5868, served as gate guardian at RAF Scampton. NX611 now resides at the Lincolnshire Aviation Heritage Centre at the former RAF East Kirkby. This Lancaster currently does not have a flight safety certificate, but undertakes regular taxi runs at high speed along a length of the wartime runway. A 2008 newspaper report indicated the 12-14 month project to return the aircraft to airworthiness was being investigated and, on 18 February 2010, it was announced that NX611 will be restored to flight. Although no date has been set, the museum has acquired two additional, airworthy Merlin engines and is currently acquiring other spares needed.