A 3 Shot HDR Processed in Photomatix Pro, and CS3.
Fuji Fs 100, Tripod Mounted.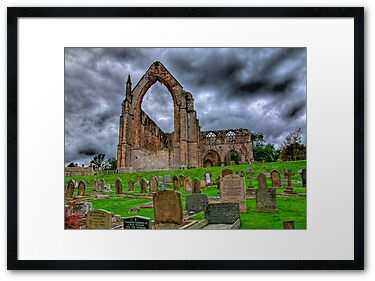 Bolton Priory
The monastery was originally founded at Embsay in 1120. Led by a prior, Bolton Abbey was technically a priory, despite its name. It was founded in 1154 by the Augustinian order, on the banks of the River Wharfe. The land at Bolton, as well as other resources, were given to the order by Lady Alice de Romille of Skipton Castle in 1154. In the early 14th century Scottish raiders caused the temporary abandonment of the site and serious structural damage to the priory. The seal of the priory featured the Blessed Virgin Mary and the Child and the phrase sigillum sancte Marie de Bolton.