Die Cast 1.72 Scale Model
FUJI HS20EXR
To Spitfire enthusiasts in the UK, Spitfire ZDB MH434 needs no introduction. Built in Castle Bromwich, it was delivered in August 1943 to 222 Squadron. It had a short relocation to 350 Squadron, and then later flew with 349 Squadron. After this busy RAF career MH434 was sold in 1947 to the Royal Netherlands Air Force. Its operational career with the RNAF included 165 sorties in Indonesia. In 1956 it was sold to the Belgian Target-towing organisation COGEA, and was sold to a UK owner in 1963. Since being transferred to private hands, MH434 has had a busy film and television career, most notably in The Battle of Britain and A Piece of Cake. Owned for a while by Sir Adrian Swire (Spitfire Society President), 1983 MH434 was purchased by Ray Hanna for the (at that time) enormous sum of £ 260 000 and has been operated since then by The Old Flying Machine Company based at Duxford Aerodrome, Cambridgeshire, UK.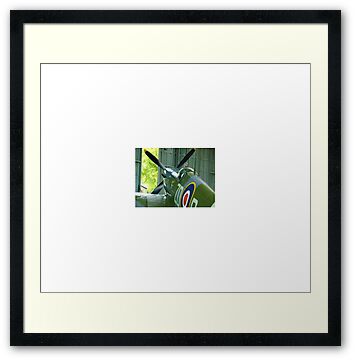 Fuji 1000Fs on tripod
The Supermarine Spitfire is a British single-seat fighter aircraft used by the Royal Air Force and many other Allied countries throughout the Second World War. The Spitfire continued to be used into the 1950s both as a front line fighter and in secondary roles. It was produced in greater numbers than any other British aircraft and was the only Allied fighter in production throughout the war.
The Spitfire was designed as a short-range high-performance interceptor aircraft by R. J. Mitchell, chief designer at Supermarine Aviation Works (since 1928 a subsidiary of Vickers-Armstrongs). He continued to refine the design until his death from cancer in 1937, whereupon his colleague Joseph Smith became chief designer.The Spitfire's elliptical wing had a thin cross-section, allowing a higher top speed than the Hawker Hurricane and several contemporary fighters. Speed was seen as essential to carry out the mission of home defence against enemy bombers.
During the Battle of Britain there was a public perception that the Spitfire was the RAF fighter of the battle; in fact the more numerous Hurricane actually shouldered a greater proportion of the burden against the Luftwaffe.