The Basingstoke canal at Deepcut Surrey.
A 3 Shot HDR Processed in Photomatix Pro. Fuji Fs 100 Tripod Mounted.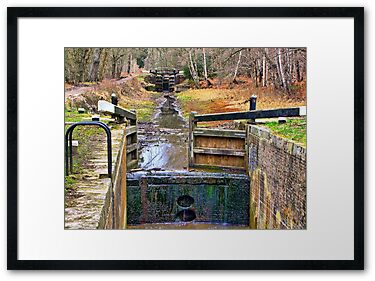 The Basingstoke Canal is a British Canal, completed in 1794, built to connect Basingstoke with the River Thames at Weybridge via the Wey Navigation.
From Basingstoke, the canal passes through or near Greywell, North Warnborough, Odiham, Dogmersfield, Fleet, Farnborough Airfield, Aldershot, Mytchett, Brookwood, and Woking. Its eastern end is at Byfleet, where it connects to the Wey Navigation. This, in turn, leads to the River Thames at Weybridge. Its intended purpose was to allow boats to travel from the docks in East London to Basingstoke.
It was never a commercial success and, from 1950, lack of maintenance allowed the canal to become increasingly derelict. After many years of neglect, restoration commenced in 1977 and on 10 May 1991 the canal was reopened as a fully navigable waterway from the River Wey to almost as far as the Greywell Tunnel. Unfortunately, insufficient water supplies, problems with funding, and conservation issues, have so far prevented the Basingstoke Canal from reaching its true potential as a restored waterway.