Fuji Fs100 – Tripod Mounted.
BEST VIEWED LARGE !!
A 6 shot panorama. Each shot was taken with three exposures 0, -1, +1. They were first processed in Photomatix Pro to achieve an HDR tiff for each of the 6 images.
They were then processed again in Photomatix Pro using exposure blend, and this produced another 6 tiff images. In turn, the tiff images for HDR, and Exposure Blend were blended 50-50 in CS3 to make a further set of 6 Tiff images. These were then processed in Autopano Pro to achieve the stitching. Finally the resulting image was cropped in CS3, and all the rubbish, coffe cups and chips etc cloned out !
The market dates back to the 14th century. It is open weekdays from 7am until late, and primarily sells fresh food; among the vendors there are cheesemongers, butchers and florists. Originally a meat, game and poultry market, it stands on what was the centre of Roman London. A number of commercial retailers are also located in the market, including clothes shops and a pen shop.
The ornate roof structure, painted green, maroon and cream, and cobbled floors of the current structure, designed in 1881 by Sir Horace Jones (who was also the architect of Billingsgate and Smithfield Markets), make the market a tourist attraction.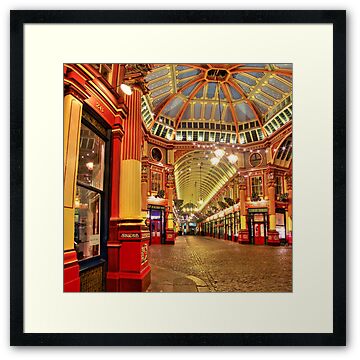 It was used to represent the area of London near The Leaky Cauldron and Diagon Alley in the film Harry Potter and the Philosopher's Stone, and is featured in the film The Imaginarium of Doctor Parnassus. It is also popular among local City workers.
Every year, the market is decorated with Christmas lights and a large Christmas tree is erected at the north entrance.