A 3 Exposure HDR, processed in Photomatix Pro, then blended 50/50 with the same 3 exposures blended in Photomatix Pro earlier! Finished off in CS3, where that horrible post in the water on the left was removed, as it is in every view of the bridge from this location !
Fuji Fs 100, Tripod Mounted.
Tower Bridge is a combined bascule and suspension bridge in London, England, over the River Thames. It is close to the Tower of London, which gives it its name.Name. It has become an iconic symbol of London.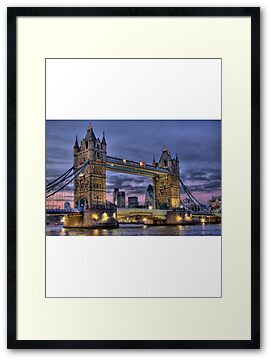 The bridge consists of two towers which are tied together at the upper level by means of two horizontal walkways which are designed to withstand the horizontal forces exerted by the suspended sections of the bridge on the landward sides of the towers. The vertical component of the forces in the suspended sections and the vertical reactions of the two walkways are carried by the two robust towers. The bascule pivots and operating machinery are housed in the base of each tower. The bridge's present colour dates from 1977 when it was painted red, white and blue for the Queen's Silver Jubilee. Originally it was painted a chocolate brown colour.