A 3 Shot HDR, processed in Photomatix Pro, and Adjusted in Topaz 4, and CS3.
BEST VIEWED LARGE TO SEE THE CHRISTMAS TREE ;0)
Fuji Fs100, tripod Mounted.
After grabbing my first "night shot" of St Pauls, I vowed to return again with a Tripod ! 2 years later I got around to it, and tried out HDR at night ! Wow is the Result !!
The London Millennium Footbridge is a pedestrian-only steel suspension bridge crossing the River Thames in London, England, linking Bankside with the City. It is located between Southwark Bridge (downstream) and Blackfriars Bridge (upstream). With construction beginning in 1998, it is owned and maintained by the Bridge House Estates a charitable trust overseen by the City of London Corporation.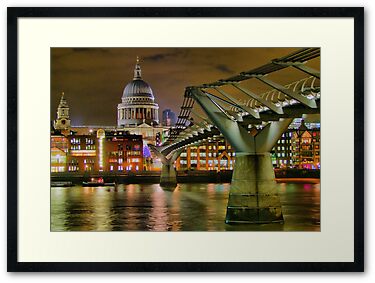 Londoners nicknamed the bridge the Wobbly Bridge after crowds of pedestrians felt an unexpected swaying motion on the first two days after the bridge opened. The bridge was closed and modified, and further modifications eliminated the "wobble" entirely.
The southern end of the bridge is near Globe Theatre, the Bankside Gallery and Tate Modern, the north end next to the City of London School below St Paul's Cathedral. The bridge alignment is such that a clear view of St Paul's south facade is presented from across the river, framed by the bridge supports, thus providing a scenic view of the cathedral.
St Paul's Cathedral is an Anglican cathedral on Ludgate Hill, the highest point in the City of London, and is the seat of the Bishop of London. The present building dates from the 17th century and was designed by Sir Christopher Wren. It is generally reckoned to be London's fifth St Paul's Cathedral, all having been built on the same site since AD 604. The cathedral is one of London's most famous and most recognisable sights. At 365 feet (111m) high, it was the tallest building in London from 1710 to 1962, and its dome is also among the highest in the world.
Important services held at St. Paul's include the funerals of Lord Nelson, the Duke of Wellington and Sir Winston Churchill; Jubilee celebrations for Queen Victoria; peace services marking the end of the First and Second World Wars; the launch of the Festival of Britain and the thanksgiving services for both the Golden Jubilee and 80th Birthday of Her Majesty the Queen. The Royal Family holds most of its important marriages, christenings and funerals at Westminster Abbey, but St Paul's was used for the marriage of Charles, Prince of Wales and Lady Diana Spencer. St Paul's Cathedral is still a busy working church, with hourly prayer and daily services.