A 3 Shot HDR Processed in Photomatix Pro, and then processed in Topaz and CS3.
Fuji Fs 100, Tripod Mounted.
Shad Thames is an historic riverside street next to Tower Bridge in Bermondsey, London, England.
The street has Tower Bridge at its west end, and runs along the south side of the River Thames, set back behind a row of converted warehouses. In Victorian times, Shad Thames included the largest warehouse complex in London.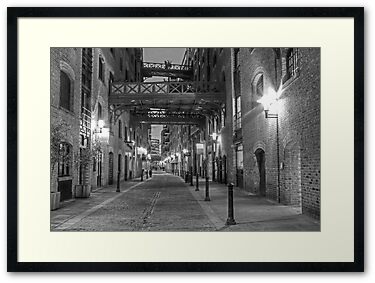 Completed in 1873, the warehouses housed huge quantities of tea, coffee, spices and other commodities, which were unloaded and loaded onto river boats.
During the 20th century the area went into decline as congestion forced shipping to unload goods further east, and the last warehouses closed in 1972. However, Shad Thames was regenerated in the 1980s and 1990s, when the disused but picturesque warehouses throughout the area were converted into expensive flats, many with restaurants, bars, shops, on the ground floors.