A 3 Shot Exposure blend, Processed in Photomatix Pro, and CS3,
Fuji Fs 100, Tripod mounted.
The London Millennium Footbridge is a pedestrian-only steel suspension bridge crossing the River Thames in London, England, linking Bankside with the City. It is located between Southwark Bridge (downstream) and Blackfriars Bridge (upstream). With construction beginning in 1998, it is owned and maintained by the Bridge House Estates a charitable trust overseen by the City of London Corporation.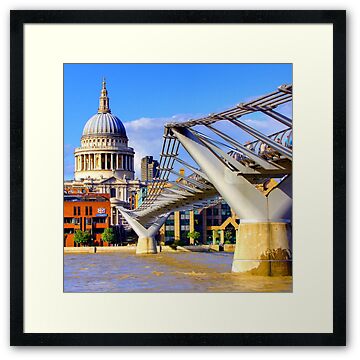 Londoners nicknamed the bridge the Wobbly Bridge after crowds of pedestrians felt an unexpected swaying motion on the first two days after the bridge opened. The bridge was closed and modified, and further modifications eliminated the "wobble" entirely.
The southern end of the bridge is near Globe Theatre, the Bankside Gallery and Tate Modern, the north end next to the City of London School below St Paul's Cathedral. The bridge alignment is such that a clear view of St Paul's south facade is presented from across the river, framed by the bridge supports, thus providing a scenic view of the cathedral.