Air Vice Marshal Keith Park: [during the raids on September 15th] Is everything up?
Wing Cmdr. Willoughby: The lot, Sir!
Air Vice Marshal Keith Park: Reserves?
Wing Cmdr. Willoughby: None!
Air Vice Marshal Keith Park: That's what I've just told the Prime Minister!
Best Viewed Large Size !
A 10 layer image in CS3, with added textures.
All images of aircraft from Shoreham Airshow 2009 2010.
Bofors gun from Coalhouse Fort, Essex.
Smoke from Biggen Hill Airshow 2008.
Fuji 100Fs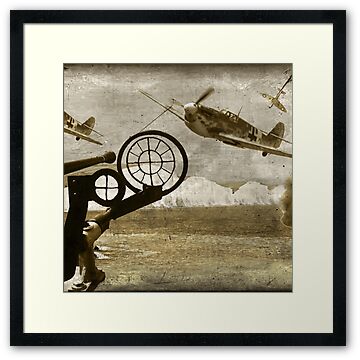 Battle of Britain!
On the 15th September 1940 more than 1,000 enemy aircraft carried out a day and night attack on London – it was a day of very heavy fighting and later became commemorated as Battle of Britain day. The RAF announced that they had shot down 175 enemy aircraft – the figure was wildly inaccurate – the real number that the Germans had lost was closer to 56 – but the inflated numbers were accepted at the time as both sides fought a propaganda battle as well as a military war. The Spitfire summer was nearing its end.