REME Museum, Berkshire

The FV 4201 Chieftain was the main battle tank of the United Kingdom during the 1960s and 1970s. It was one of the most advanced tanks of its era, and at the time of its introduction in 1966 had the most powerful main gun and heaviest armour of any tank in the world. The Chieftain also introduced a supine (lying backwards) driver position, enabling a heavily sloped hull with reduced height.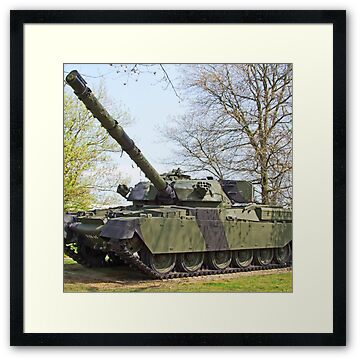 Specifications
Crew: 4
Combat Weight: 55 tons
Overall Length: 10.8 m (gun forward)
Hull Length: 7.5 m
Height: 2.9 m
Width: 3.5 m
Powerplant: Leyland L60 (diesel, multi-fuel compression ignition) 695 bhp
Range: 500 km
Max Road Speed: 48 km/h
Cross-Country Speed: 30 km/h
Armour: turret front, 195 mm RHA (60°)
Armament
120 mm L11A5 rifled tank gun
Rate of fire: 8 rounds per minute
Elevation: -10 to +20 degree
Laser rangefinder
Coaxial L8A1 7.62 mm machine gun
Cupola-mounted L37A1 7.62mm machine gun
Mark 1 and Mark 2 models had coaxial .50 cal. ranging machine guns prior to the introduction of the laser rangefinder.
Equipment
Twin Clansman VRC 353 VHF Radio sets
1 C42 1 B47 Larkspur VHF radios
2 X 6-barrel smoke dischargers on turret
Bulldozer blade (optional – fitted to one tank per squadron)