Work began on the Palace Pier in 1891 and it opened in May 1899 after costing a record £137,000 to build. This was Brighton's third pier. A condition to be met by its builders, in exchange for permission to build, was that the first, The Royal Suspension Chain Pier of 1823, which had fallen into a state of disrepair, was to be demolished. They were saved this task by a storm which largely destroyed the Chain Pier.
A concert hall opened two years later, and by 1911 this had become a theatre.
In 1986 the theatre was removed, under an understanding that it would be replaced. This has not happened, and the present seaward end building looks fairly modern in comparison with the rest of the structure, supporting a domed amusement arcade and several fairground rides, including several thrill rides, children's rides, roller coasters and a log flume.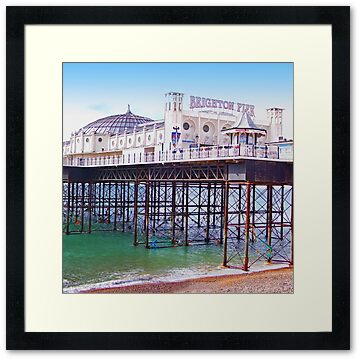 The pier had signs reading "Brighton Pier" attached to it in 2000, although this change is not recognised by the National Piers Society or many of the residents of Brighton and Hove. Local newspaper The Argus still generally refers to the structure as the Palace Pier.
The Palace Pier suffered a large fire on the 4th of February 2003 but the damage was limited and most of the pier was able to reopen the next day. This was a fraught period for Brighton's piers, with much damage occurring to the West Pier (of 1866) shortly before and after this event.
A Twin shot Panorama in CS3