Me 109 "Bouchon" at Shoreham Airshow 2009
The Spanish government in 1942 arranged a manufacturing licence with Messerschmitt AG to build the Bf 109G-2.
The final variant was the HA-1112-M1L Buchon (literally, "big throat"), which is both a male dove or a pelican in Spanish. It first flew 29 March 1954. The 1112-M1L was equipped with the 1,600 hp Rolls-Royce Merlin 500-45 engine and Rotol propeller. This engine required the addition of a deep chin intake, whence the name Buchón. Its armament consisted of two 20 mm Hispano-Suiza 404/408 cannons and two Oerlikon or Pilatus eight-packs of 80 mm rockets. It remained in service until 27 December 1965.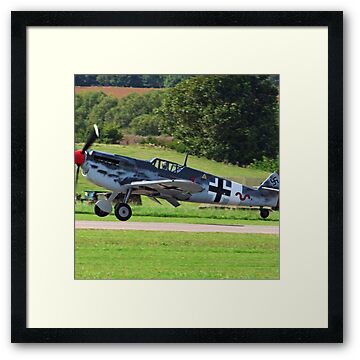 HA-1112-M1Ls remained in flying condition until the mid-1960s. This made them available for theatrical use, disguised as Bf 109Es and Gs in movies like "Battle of Britain", "Memphis Belle", and "The Tuskegee Airmen". Remarkably, Buchons also played the Bf 109's opposition, the Hawker Hurricane, in one scene in "Battle of Britain". Yes I did spot that (Arrowman), as the were not enough flying Hurricanes for the scene !!
Fuji Finepix 1000fs