The Maasai hold a rite of passage ceremony for all boys in an age group, typically mid teens. During the ceremony many religious and cultural secret rites are performed, including circumcision. After the circumcision, the boys spend the next month dressed all in black with their faces painted with elaborate white patterns. This boy was on his way home from school, with a blue umbrella hooked at his waist—presumably to keep rain from washing off his face paint.
Our guide stopped our vehicle and went to asked the boys if they would agree to be photographed. They agreed if he would give them money. He paid up and the boys promptly ran off, giggling. It was the first time in a long trip that we saw our guide visibly angered. He didn't expect to be hoodwinked by a couple of teenagers.
Taken north of Arusha, Tanzania, Africa on the road to the Kenyan border.
Panasonic Lumix FZ100
12/07/12 205 views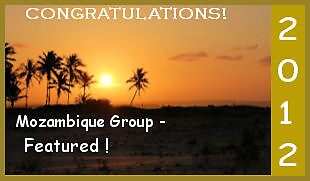 Featured in Hosting Tutorial 7/20/12
Featured in #1 Artists of Redbubble 7/20/12
Featured in Mozambique and Neighboring Countries 7/19/12
Featured in The Best of Redbubble 7/10/12
Featured in The Silky Touch 7/7/12