I went to Africa in the hopes of capturing great animal shots, and I got some. What I didn't expect was to be captivated by African women.
Whether in Nairobi (Kenya) or Arusha (Tanzania), or the most primative of villages, I found beautiful women every where I looked. I never did figure how they could have such immaculate kangas (skirts and upper body wraps) when they were often washing in river water and storing in mud huts. They make all their own bead work, which is nothing short of fantastic.
So this lady, a bashful 20 years old, and wife of our first guide in the Maasi Mara (Kenya) is the first of my Superb African Women portraits.
Panasonic Lumix FZ100 32x
12/20/12 350 views
Top Ten in Unusual Portraits Challenge in Fun, Artsy Friends 4/19/12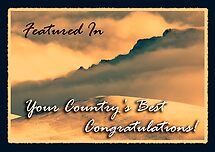 Featured in Afrikaans 12/20/12
Featured in Fun, Artsy Friends 4/23/12
Featured in Live, Love, Dream 2/12/12
Featured in Beautiful 2/11/12
Featured in Your Country's Best 2/10/12
Featured in Shameless Self-Promotion 2/10/12
Featured in The Silky Touch 2/10/12