1299 views 03/29/2012
Featured the All Things Egyptian group
FEATURED the 'Inspired Art Group' o4/11/2019
FEATURED the 'Impressionism Cafe' group 04/24/2010
FEATURED the Hats and Hat Boxes' group 01/05/2011
FEATURED the 'California Love' group 4/05/2011
Art deco, bright, Egypt, elegant, hollywood, mysterious, Nefertiti, vamp, words to describe my concept of the elegance of the movie depiction of Egypt in the twenties and thirties. Marilyn's wonderful Egyptian series got my brain working overtime. I had this little black and white deco drawing from Dover Publications copyright free archives that I had for months and never knew what to do with. I'm a kid of the 'Fifties', TV was new and I watched the old movies of the Thirties. Boris Karloff, and assorted Egyptian vampire vamps filled the 13 inch screen of our first TV and my imagination. This is my Egypt, California style.
Mouse drawn and painted in photoshop 5.5. Windows '98 platform.
MOUNTED PRINT
FRAMED PRINT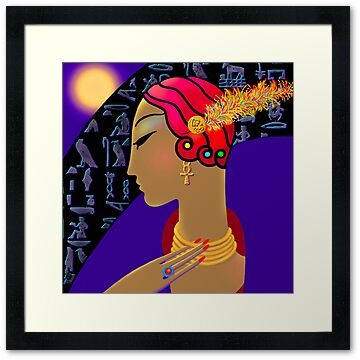 01/24/2011, 813 views