Black-eyed Susan captured in Minnesota this summer.
Canon Rebel T3i 600D
FEATURED IN: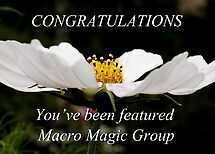 Rudbeckia hirta L.
Black-eyed Susan, Common black-eyed Susan, Brown-eyed Susan
Asteraceae (Aster Family)
USDA Symbol: RUHI2
USDA Native Status: Native to U.S.
This cheerful, widespread wildflower is considered an annual to a short-lived perennial across its range. Bright-yellow, 2-3 in. wide, daisy-like flowers with dark centers are its claim-to-fame. They occur singly atop 1-2 ft. stems. The stems and scattered, oval leaves are covered with bristly hairs. Coarse, rough-stemmed plant with daisy-like flower heads made up of showy golden-yellow ray flowers, with disk flowers forming a brown central cone.
This native prairie biennial forms a rosette of leaves the first year, followed by flowers the second year. It is covered with hairs that give it a slightly rough texture. The Green-headed Coneflower (R. laciniata) has yellow ray flowers pointing downward, a greenish-yellow disk, and irregularly divided leaves.