Final for SoJie 13 – digital artist John Poon – Set Your Controls For The Heart Of The Sun. Oil on canvas.
http://www.redbubble.com/people/johnpoon/art/49...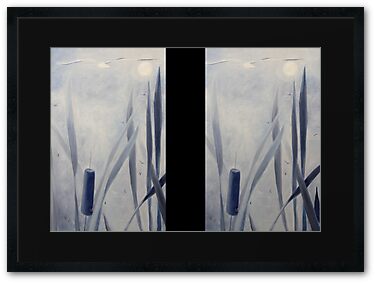 When I first looked at John's digital artwork the bullrush in the front bothered me. After thinking about it a lot, reading about Johnathan Livingston Seagull (who was the inspiration for his work), using the links he so thoughtfully provided for me, I came to the following conclusion:
The single bullrush symbolises the loneliness he felt after his expulsion from his flock, because they did not understand his passion for flying. But out of his loneliness comes the seeds of flight, and the seeds soars into the sky, flying higher and higher, wild in the wind. The seeds changes into seagulls, who "set their controls for the heart of the sun" – the title of John's digital artwork.
This small lesson can also be applied to people…..
This translation was Plan A, but i got sidetracked along the way. I tried using words, but in the end I realised that art comes from the heart, little seeds that flies in the wind, growing in strange places, and finding a home in Red Bubble!