thank you, Miki :-*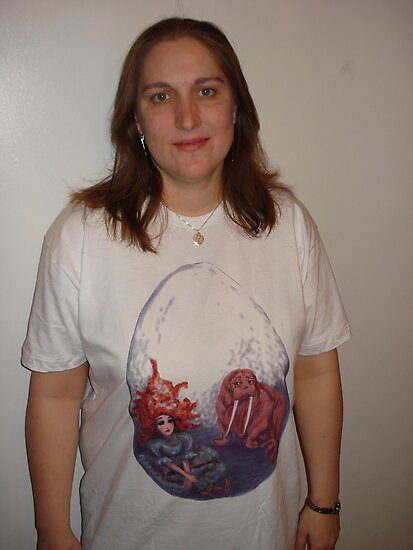 digital drawing with a mouse (which took me a while!).
Inspired by a fairy-tale, written by my good friend and a talented writer Miki Markley when I was bored and demanded for a good story :-)
The story consists of 10 days so far and I hope she will post it on redbubble when she's back. Meanwhile I'm posting Day 2 :-)
Day two in the egg shaped room, thought the muse as she stared at the curved wall beside her bed. Of course there was no way to really tell how much time had passed since she had first opened her eyes to discover her existence in this room. It seemed as though much time had passed as she had fitfully slept through the night before. Something was different today. She could sense a change in the room. Rolling over to survey her surroundings she gasped and pulled the blankets tighter around her.
There on the far side of the room was a walrus, so large; he was filling the remaining space in the room. He appeared to be sleeping but having never seen a walrus this closely before, she couldn't be sure.
"I wonder if he's friendly?" she mumbled to herself. The walrus opened one eye peering at the muse from across the room.
"Depends on your definition of friendly," the walrus replied gruffly.
"Oh dear, I'm sorry. I didn't mean to wake you. I'm so used to being alone and talking to myself that I sometimes forget I am speaking aloud." the muse apologized quickly, forgetting to be frightened of this giant beast at the discovery that he could speak.
"It is quite alright, I was merely resting my eyes." The walrus didn't seem to be too unfriendly.
"Pardon my rudeness but how did you get in here, if I may ask? There are no doors and no windows." The muse looked around the room to see if perhaps there was a way in and out that she had missed the day before.
"Indeed. I was hoping you could tell me. I had laid myself upon a large rock to enjoy the sun after a wonderful meal of clams and woke to find myself confined to this room with you. I was hoping perhaps you could impart some wisdom on that matter." The walrus twitched his whiskers, the only sign that he might be perturbed at his disturbed routine.
"Oh my, well there were walruses in my dream. Perhaps it was my dream that brought you here?" The whiskers twitched once more as the walrus stared across the room at the muse.
"What are you, that your dreams can conjure me here?" the walrus stared at the muse suspiciously.
"Perhaps it is I who should be asking if you are friendly."
"Who me? I'm just a muse."
"A muse? I've never heard of such a thing. What, may I ask, is a muse?"
"Well, a muse is the spirit assigned to an artist or writer at birth. It is the muse who is responsible for inspiration. We serve one master until we are no longer needed. No writer is complete without their muse and likewise no muse can be complete without their writer. We need each other." The muse frowned.
"What thought have you had muse, that has caused you to frown?" the walrus inquired.
"It's nothing. I'm just tired. I wish to sleep." The muse replied with a pout on her gentle face. She refused to cry in front of this walrus but thoughts of her failure had brought sadness to her.
"The days seem shorter in your world muse. Not that I mind too terribly since I do so love to sleep. As you wish muse," the walrus replied gruffly and promptly closed his eyes. Staring at the walrus, the muse wondered what would happen to a muse who had lost their writer. Would she forever be imprisoned in this egg shaped room? At least now she had someone to keep her company. Pulling the pillow over her head, she closed her eyes and slipped quickly into a dream world. In the dream she saw an artist with an easel.
"Is this the one I am to help next?" the muse asked herself. Walking quietly up behind the artist, she peered at the canvas and admired the near finished painting of a garden in full bloom. Of course not, she realized. This artist already had their muse or they wouldn't be able to paint such a wonderful masterpiece. "I wish I had the means to see such beauty," the muse whispered as she thought of her windowless egg shaped prison. Trying to hold onto the beauty she had seen through the artist's eye the dream faded and the muse slipped into a deeper sleep.